ESG-SUSTAINABILITY IN ENTERPRISES
WHAT DOES ESG MEAN?
ESG and Sustainability, very frequent terms; but what is meant? The acronym ESG stands for Environmental, Social and Governance, they are the three dimensions that characterize sustainability. Each of these dimensions has its own identity, but it is important to consider them in synergy. Therefore, sustainability is a very broad concept that encompasses all three of these dimensions. Indeed, being sustainable means achieving a balance between environmental protection, human rights and economic growth. This balance must ensure prosperity on all three dimensions, so that the growth in one dimension does not preclude the growth in another one.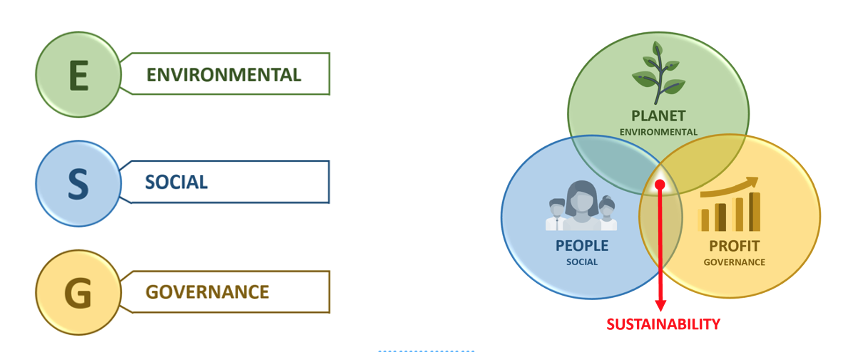 When people think about sustainability, they think it means making a compromise with economic growth, but it is wrong.
Instead, being sustainable means growing and achieving economic welfare with awareness of the impacts that one's business has on the surrounding environment and, at the same time, with awareness of the impacts that the environment has on one's business.
In fact, it is necessary to think of the concept of sustainable development in a broader way instead of referring it only to the environmental dimension. It means setting economic, social and environmental goals at the same time. It is from this vision that the Brundtland Commission, in 1897, defines for the first time the concept of sustainable development as:
"The development that meets the needs of the present without compromising the ability of future generations to meet their own needs."
In 1992, the UN recognized sustainable development as the new paradigm of development itself and identified the ESG dimensions as the dimensions that characterize it.
WHO IS REQUIRED TO SUSTAINABILITY?
The current climate and energy crises underline that the transition towards sustainable development is increasingly a necessity and enterprises are the protagonists due to the great impact they have on the ESG dimensions.
Institutions, aware of all this, has given a great stimulus to this transition making the legislation on sustainability reporting increasingly stringent.
To do a sustainability reporting means communicating externally the ESG objectives that the company has set itself to achieve, the ESG objectives achieved and the actions that have been taken to achieve them.
The European Parliament published in the Official Journal on 16 December 2022, the Corporate Sustainability Reporting Directive, through which it increases the companies that are obliged to non-financial reporting. Italy must comply with the new legislation by 6 July 2024, like all the Member States.
The aim of Corporate Sustainability Reporting Directive (CSRD) are to increase the number of companies bound by EU legislation to issue non-financial reports and standardize the principles of non-financial to enable comparability and simplify assessment.
But who will be obliged?
All great enterprises.
All listed companies, including small and medium-sized enterprises.
Small, non-complex credits.
Captive insurance companies.
Third-country companies exceeding certain thresholds.
Other companies designated as public interest entities.
Companies mandated by the CSRD must ensure compliance with sustainability principles throughout their value chain. This implies that the legislation also has an indirect impact on all those small and medium-sized companies involved in the supply chain of directly mandated by the CSRD companies.
When will the CSRD come into force?
The regulation will apply in four stages:
from 2024 for large public interest companies already subject to the Non-Financial
Reporting Directive, with a deadline for publication of data in 2025 ;
from 2025 for large companies not yet subject to the Non-Financial Reporting Directive, with a deadline for publication of data in 2026;
from 2026 for SMEs and other listed companies, small and non-complex credit institutions and captive insurance companies, with a deadline for publication of data in 2027;
from 2028, for companies from third countries, with a deadline for publication of data in 2029.
WHY IS IT USEFUL TO BECOME SUSTAINABLE, EVEN TO SMEs?
Sustainability can be an important strategic factor for any enterprise. So, regardless of the regulatory obligation, implementing sustainability can be a great added value.
The sustainability can bring numerous benefits if it's implemented and managed in the right way:
Competitive advantage: sustainability generates competitive differentiation and thus the ability to conquer or enter new markets.
Cost reduction: this happens in the long term. For example, rethink the production model with circular economy view.
Economic performance: makes companies more profitable in the long run and more capable of preventing or dealing with crises.
Innovation: makes companies more innovative, so they can exploit new markets and gain a strategic advantage.
Corporate reputation: it greatly enhances reputation, which is widely recognised as a company's most valuable asset.
Easier access to relations with the public administration: in recent years, public
institutions have adopted sustainability-oriented purchasing policies, so much to change their supplier selection criteria to favour those committed to sustainability.
Improved access to the credit market and to financial resources: non-financial information is becoming increasingly important for corporate lending. European and international financial regulation is forcing banks to introduce ESG variables in their credit assessment and monitoring policies.
Better ability to attract and retain people with the right competencies: human capital is one of the strategic assets on which the competitive challenge between companies is played out. A better corporate reputation favors an effective policy of finding qualified and motivated resources, as well as a more relaxed, innovative and at the same time more incentive working environment; which lead to the benefit of corporate productivity.
It facilitates business aggregations: companies animated by the same ethical, social and environmental principles are naturally inclined to activate synergistic or aggregative relationships.
HOW CAN SUSTAINABILITY BE IMPLEMENTED IN ENTERPRISES?
It has been said that in order to achieve the benefits just seen, sustainability must be implemented and managed in the right way.
Sustainability reporting is only the last step in this management. We could say sustainability reporting is only the tip of the iceberg, it is the end result that is communicated to the outside world. In fact, the real sustainability management starts much earlier, at the strategic level.
But how should sustainability be managed?
The ESG dimensions of sustainability represent risks for the company, called ESG risks. This means that enterprises must consider sustainability as a series of events that can impact their business. As well as any other risk, the impact of ESG risks on the company's result can be positive or negative. This means that these events can turn into opportunities or threats, and so much depends on how they are managed.
Therefore, it is necessary to identify these risks, assess them, prioritise them, choose the best strategy to deal with them and develop a control and monitoring system.
It is therefore a question of triggering a real process of sustainability.
In order to identify and prioritise ESG risks, the dual materiality analysis is used, which consists of taking into consideration on the one hand the impacts that the business activity has on ESG dimensions and, on the other hand, the impacts that ESG dimensions have on the business. This analysis is useful in identifying which ESG risks are most critical for the specific business. The resources will be deployed on these identified risks.
Once the most crucial ESG risks have been identified, it is necessary to decide how to address them. Then it will be necessary to set the company's objectives and strategies and integrate them with ESG objectives aimed at managing the risks that have emerged.
It will also be necessary to set up a system to monitor the progress of the strategies adopted and to monitor the company's exposure to ESG risks.
CONCLUSION
Legislation obliges companies to focus on ESG dimensions. Compliance is certainly a first step towards implementing sustainability within the organisation. However, regulatory compliance should be seen as the starting point, not the end point. Looking at it from a strategic perspective, sustainability becomes an investment that brings the aforementioned benefits, especially in the long term. Furthermore, all that was exposed applies to any enterprise whether obliged or not.
Check here on Italian Types of Companies
Ferrari & Associati